Female sexuality is handled properly and with care in 14 languages
RFSU, the Swedish Association for Sexuality Education, is a non-profit membership organisation that does a significant amount of work with women who have immigrated and new arrivals. On behalf of the government, RFSU translates and simplifies material about sexuality and health. This can involve everything from genital mutilation and sexual violence to abortion and contraception – a task that is anything but simple, for many reasons.
"Many languages lack certain words, because the subject is taboo. Sometimes the words associated with female bodies are automatically disparaging and offensive," says Magdalena Abrahamsson, project manager and public health expert at RFSU.

This became clear when a first round of translations into 14 languages, including Arabic, Dari, Kurmanji, Sorani, Somalian and Tigrinya came back from the initial translation agency for review by RFSU's in-house editors.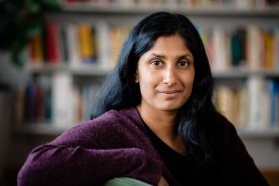 Magdalena Abrahamsson, RFSU
Photo: Daniel Ivarsson
"In translation, the word 'homosexual' became 'sodomite.' And in one text, of their own accord, the translator added a paragraph about abortion that said women would be infertile after having one. These are serious oversteps which, thankfully, we stopped before they were published," she says.

Magdalena Abrahamsson had learned from other organisations with similar tasks that it was difficult to obtain high-quality translations and she was prepared for multiple rounds of review.

"But this took too much time and caused delays in the project. Plus, we felt we couldn't trust that they were correct. That was a huge problem for us."
RFSU received a recommendation to contact Språkbolaget instead, and project manager Linda Haggren travelled from Gothenburg to Stockholm to introduce herself.

"We had a great dialogue from the beginning. We learned that they do translations directly from Swedish, without a bridge text in English. It felt good to eliminate a step in the process," says Magdalena Abrahamsson.
In close collaboration, RFSU and Språkbolaget then developed a clear process which involved hiring translators who feel comfortable with the female body and have knowledge of sexual and reproductive health and rights, who are fully familiar with Swedish conditions and live in Sweden to the greatest possible extent. RFSU also wanted two different people to translate and review each language, in order to ensure the texts would be reviewed by as many fresh pairs of eyes as possible. One project manager at Språkbolaget handles the entire chain and serves as the sole point of contact for RFSU, regardless of language or project.

One sign of quality during the process was that Magdalena Abrahamsson now received more questions from the translators, via Linda Haggren.

"It may seem counterintuitive to be happy to receive questions, but to me it was a clear sign of quality. We know the subject is sensitive and there can be a lot of misunderstandings, so if no one wonders what a vaginal corona is, for example, we get nervous. The translators made us aware of things that could be misunderstood and offered detailed suggestions and explanations."
Språkbolaget began with a sample delivery that made Magdalena Abrahamsson feel completely secure.

"We noticed a huge difference immediately. A huge difference. Our reviewers had far fewer comments and the process was incredibly smooth. Our pace is so rapid that we need partners we can trust, and that's how we feel about Språkbolaget," she says.
Since 2017, the assignment has grown and to date Språkbolaget has been responsible for translations of a clinic map, a glossary to support youth clinic and medical centre staff in discussions, and voiceovers for informational videos. More languages are underway. The material can be found all over Sweden – and the videos have received plenty of attention.
"Umo.se, the online youth clinic, Care Guide 1177 and several organisations and universities have asked to publish and spread our materials, which never would have happened if they weren't well translated. We also see that we have hits from abroad, which is a good sign," says Magdalena Abrahamsson.

Text: Sofia Eriksson